Name: Shuho Kazeyama
Nickname: Shu
Title: Daybreak Duelist
Age: 18
Gender: Male
Rank: King
Duelist Level:
Reputation: Professional
Criminal Marker:
Duelist Style: Solo/Turbo
Home Town: Neo/New Domino
Home Country: Japan
Current Residence: Satellite
Relationships:
Kizai Kukuo Milton: Friend/Mechanic
Zeiya Hasaki: Friend/Rival
Personality: Shuho is cocky and very sure of himself. A sarcastic kind of duelist who thinks he's great and talks big. Despite that, he's true to his friends and very determined. He's also very smart in terms of card strategy for reasons even he does not know. He dreams of being the number 1 Turbo Duelist.
Appearance: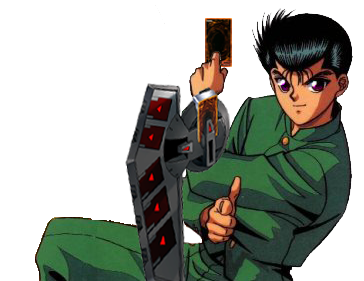 Short, black hair. Slight green highlaights. His eyes are purple, dark. He usually wears green but sometimes wears a normal white shirt and jeans.
Talents: Fist Fighting, Dueling
History: Shho grew up in Neo/New Domino City with a pretty average life. One day, his parents got in trouble with Sector Security. They claimed that Shuho's father had stolen Duel Monsters cards. Even though he denied it, Shuho's father was branded a criminal and he was sent to Satellite. Shuho, loving his father, snuck abord and went with him. All this happened when he was at the age of 10.
After that,Shuho semt the last 8 years in Satellite, picking up Dark and Light Attribute cards that were discarded by others and branded useless. When he was young, he always saw the Turbo Duelists on television, dreaming to be the best of them all. Those dreams have not yet died. When Neo/New Domino City and Satellite connected, Shuho took it upon himself to get a permit to ride a Duel Runner.
Special Powers: Spirit Duelist (The ability to communicate with his Duel Spirit partner. (Light and Darkness Dragon.)
Duel Disk - Style: Standard issue duel disk. Black with white and yellow as well. It appears to be self painted.
Duel Runner: A Standard Duel Runner, painted Black and White, redesigned by Kizai, Shuho's friend.
Other Items:
Sunglasses